Did bootleg VHS tapes bring down Romanian communism? Benson Cheung reviews "Chuck Norris vs. Communism".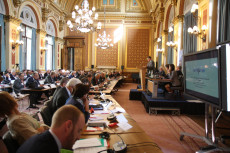 Ian is discussing the major subjects of the upcoming NATO Parliamentary Assembly in a short series.
Excerpt: As the Ukraine crisis has demonstrated, we should not assume that freedom of information necessarily leads to a more open or democratic society. Information can be harnessed and manipulated by authoritarian regimes in order to generate confusion and undermine trust in government, often with unpredictable and destabilizing effects on society.
In the final installment of a three-part series, Jenny looks at "countering disinformation campaigns" during the Cold War, and the lessons we can learn from them.