Learn more about Canada's legal and human security relationships with indigenous peoples in this infographic by Willow Hillman!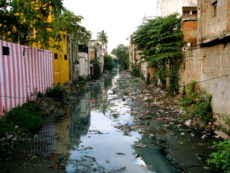 Due to climate change, India is currently facing the worst water crisis in recent history. In the city of Chennai, tap water has stopped working, leaving the population with no reliable water source. Emma Tallon reflects on Chennai's water crisis as a human security emergency.
Human trafficking affects millions of victims worldwide and presents a serious threat to the safety, security, and human rights of all peoples. In Part 1 of this two-part series on human trafficking, Sabrina Natale provides an introductory analysis, and explores legal definitions.
Read Part I here, in which I ask Jieun about her research about information access in and out of North Korea. Part II: About JiEun's Career Can you tell me a bit more about your position at Google headquarters and your work on information access projects for North Korean defectors? I was in […]
Twenty years after the Ottawa Process, Ida Mannisto explores the precedent that the treaty established for international accords banning weapons.
Ian examines the role of technological innovation and the intelligence community.