Author:
Janakan Muthukumar
Janakan Muthukumar a Senior Research Fellow at the NATO Association of Canada. He is also the lead researcher of the NATO Research Group based at the Munk School of Global Affairs and Public Affairs at Trinity College in the University of Toronto. He holds an LL.M in Public International Law from the University of London and a Master in Human Rights and Democratization from the University of Sydney, Australia. Muthukumar has written widely on contemporary politics and international law related to armed conflicts. His research focuses on the temporality of international law, collective defense and counter-terrorism. He is a former Chevening Scholar (2017), Asia Pacific Scholar of the European Union (2015) and a Legislative Fellow at the United States Department of State (2014).
Janakan Muthukumar discusses the standing of ISIS under international law by examining the ISIS's locus of political authority.
This article analyzes the link between women's rights and the notion of R2P in a conflict/ post-conflict situation. In so doing, this article suggests that recognizing WPS while implementing every phase of R2P is necessary to address atrocities against women during and after conflict.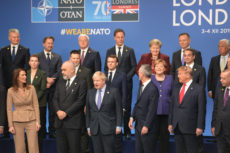 Janakan Muthurkumar reflects on the politics and diplomacy around the 2% defence spending requirement that has been a live issue in recent years